Major Appliance Installation in Soldotna, AK
Appliance stopped working? Call Peninsula Appliance Service today! With over 30 years of experience, rest assured your appliances are in good hands and will be up and running smoothly in no time. We offer services on all brands, across all major appliances. Whether your appliance is gas or electric, we have the know-how, tools, and parts to repair it.
Call us today and save yourself the cost of a brand-new appliance. We offer kitchen appliance repair, washer and dryer repair, and more.
Owner Michael Hicks has 30 years of experience
,
and is factory trained and EPA certified. Backed by a huge inventory of brand-name
parts
and extensive major appliance repair experience, he brings solutions to any appliance, regardless of the problem. Our company services all brands of refrigerators, washer/dryers, range/ovens, dishwashers, garbage disposals and microwave ovens. And, we can work on gas or electric appliances. Whether you're dealing with a minor issue or an appliance that's not working at all, let us set things right!
Hire Us Today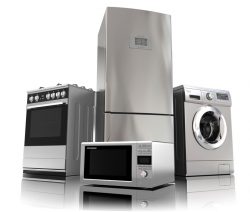 Major Appliance Repair
From your refrigerator to your washing machine, the appliances in your home are an important part of everyday life. When one or more of them stop working as you expect them to, it's a major inconvenience—one that won't get better until you call Peninsula Appliance Service. As the local authority for major appliance repair in Soldotna, Sterling, and Kenai Peninsula Borough, AK, we're equipped to fix any major appliance in your home, regardless of the model, manufacturer or age of the unit.
Aside from repairs and troubleshooting for your appliances, we also help you get your new investment up and running right. Call us for major appliance installation in Soldotna, AK and we'll gladly install your new washing machine, dryer, stove, fridge or dishwasher, complete with hookups and programming. We want you to get the most use out of your unit, so we'll make sure it's set up correctly right from the get-go. When it comes to appliances, no one does it better! Contact us and put your appliances in the hands of a professional with a proven record of results.
We're proud of our word-of-mouth reputation and are excited to serve new and returning customers alike. You'll get superior service every time, guaranteed.
No one else in the region has as much experience as we do when it comes to repairing and installing appliances of all types, across a broad range of brand names.
We employ factory-trained, EPA-certified techs and familiarize ourselves with all major retailer models, so we're knowledgeable in how to administer the right major appliance repairs.
Our more than 30 years of experience spans both electric and gas units. We serve the needs of private homeowners as well as property management companies.
Our business maintains an A-plus rating with the Better Business Bureau (BBB) and we always treat our customers with respect, honesty and integrity.
Restore Your Appliances
Whether old or new, no matter the issue, we'll restore function to your appliances. Before you junk it, give us a call and let us work our magic! We guarantee our major appliance installations and your satisfaction.
Serving: Soldotna, AK & Kenai Peninsula Borough AK
Areas Served
Proudly offering major appliance installations and repairs throughout these areas in Alaska:
Soldotna, AK
Kenai, AK
Sterling, AK
Kasilof, AK
Nikiski, AK